Building A Swinging Gate? Here Are Tips From Experts
There's more to consider when designing or building a swinging gate. Gates are functioning mechanisms that need to stand the test of time and weather the storm.  In this article, we'll walk you through the construction of a welded aluminum gate and provide expert tips on best practices, design considerations, and applications to this and other gate types and materials as well.
Read on to find out how the gate was fabricated and installed, as well as the innovative tech that was created for the opening mechanism.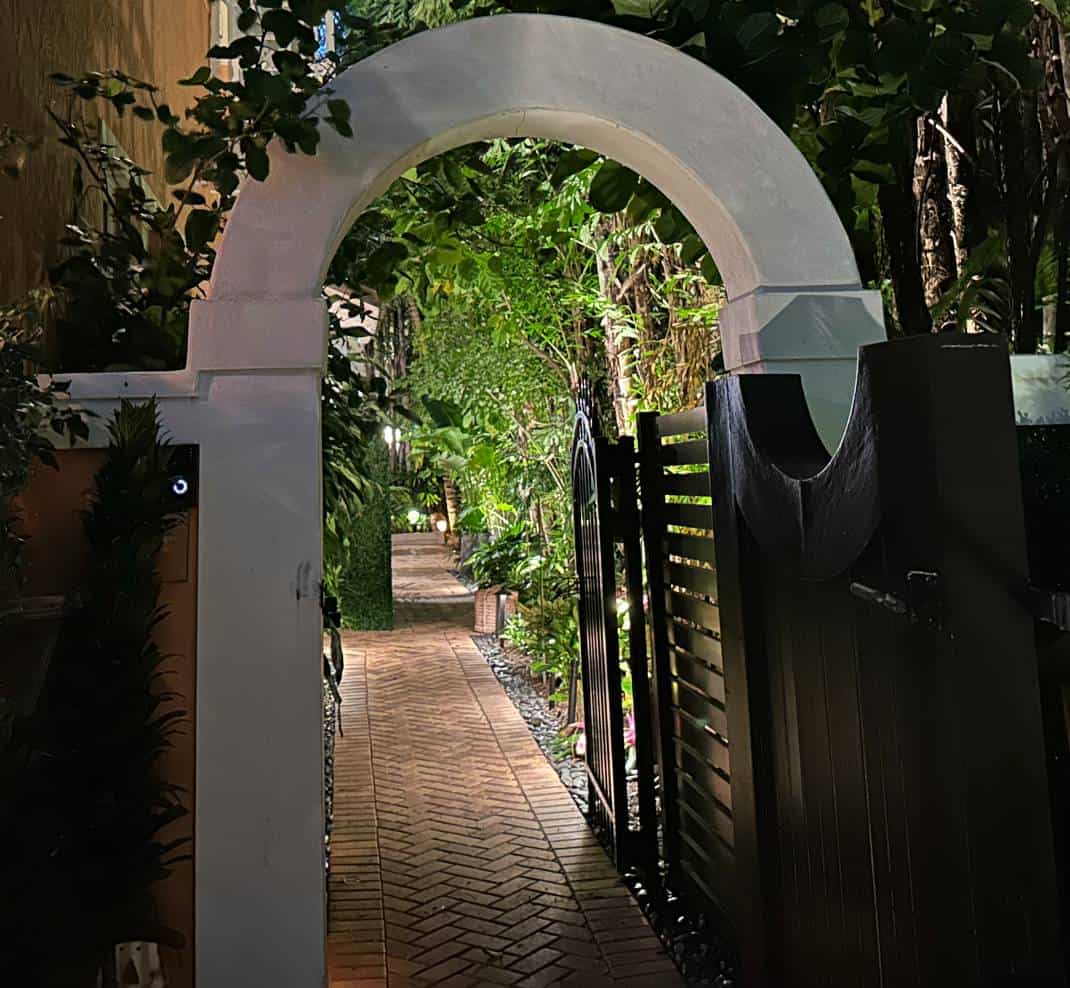 Custom Welded Aluminum Gate & privacy fence
Build A Gate - The Project
The project is to design a custom arched welded aluminum swing gate in bronze finish for an entryway. 
The gate will also be secured with an innovative security lock that allows keypad, remote, pushbutton, and cell phone access along with opening notifications.
The gate is attached to a wall on one side, and turns to close in the area with a privacy fence.
Engineering Plans was invited to tour the manufacturing of the gate at Anschuetz Aluminum in Pompano Beach, Florida.
A stock plan from EngineeringPlans.com was selected as a starting point for the project.  The gate and fence plan was then modified to create the custom look for the client. 
Having the stock plan made this project easy and simple with the help from the engineers at Engineering Express.
Here's the plan that was used as a base for this project:
That's really where the fun begins.
With a proper plan,
fabrication is easy. 
Let's show you how it was done.
Stock aluminum extrusions were used to create the design.  These extrusions are unfinished and are cut, bent, and welded to the plan specifications.
2 X 2 X 1/8″ Aluminum, typical for fence 7 railing posts. Above image- 4 X 4 for large gate posts.
Creating a slatted privacy fence by spot welding horizontal pickets. See more in video & finished product below.
This is the punch to create holes for the pickets in the arched part of the gate.
See the punch in operation in the video below.
Here's a cool video created to illustrate the fabrication process.
The Engineering Behind The Plan
Learn more about the codes behind the design
Fences and gates are designed using ASCE-7 in a section for solid or open signs. Porosity consideration is a custom calculation as well.
Design professionals use the wind pressure derived from the ultimate design wind speed to check the capacity of the rails, pickets, and posts as well as the footings in various soils and saturations.
Fences and gates are occasionally designed to list in high winds and floods but not to become flying debris to protect the safety of the public. Gates are typically designed to be in the 'open' position during high winds and secured to a more solid component.
Gate latches and locks need to be designed to handle high wind as well. Gates and fences have special requirements when put around pools to prevent children from entering the pool unattended.
All these considerations and more are reason enough to contact a design professional who can design your fence or gate for safety and aesthetics.
The swing gate installation took an afternoon and everything went smoothly thanks to proper planning.
Left: Concrete anchors secure the fence part of the gate to the wall in a fence socket to hold it in place.
Below: Gate posts are installed into the ground with concrete footings to secure. These are designed by licensed professionals.
Fences& gates are all about the finishes.  Gates can look modern, traditional, classic, or custom.  This gate was going for the New Orleans French Quarter look, hence the fleur de lis selection. 
Nothing's more interesting than matching traditional designs with technology.
For this gate, a Mighty Mule gate opening system was used along  with the wireless adaptor accessory, then installed a Remootio wifi connector to bridge the gap to phone and remote access with notifications.
Here's how it works: the FM143 gate lock gets hooked to the gate. it's plugged into an outlet using the RB4686 tranformer and connected to the keypad.  
Warning: The fm145 is a closed system and provides keypad access only. It will only work as a battery operated keypad and not do wireless or wifi.
Then each other item, the wireless and Remootio get hooked in parallel to the gate opening switch in the keypad so either completes the connection and opens the gate.
Below are the parts we purchased on Amazon to do this project.  Batteries need to be changed every 3-4 months but there is a key lock backup.
Click here for gate lock instructions from Mighty Mule.
Feel free to contact us for more information on how this was installed. 
Find Fence Contractors. Get Up to 4 Quotes Now. It's Quick, Free, and Easy!
Note: these are affiliate links. As a result a small commission may be received based on sales generated from links on this page. We believe in what we created for this gate as a sound recommendation and affiliate fees are not affected by or influenced by this.